Additions
Adding an addition is an easy way to improve your home. With RenovAdam by your side, it's even easier. After drawing up floor plans and filling out any required paperwork at your town's building department, RenovAdam can begin the work. It is a process full of exciting decisions because you will be renovating your home. If you are ready to experience the magic of a construction project, schedule a free estimate today!
Flooring
We know flooring creates the base of all that you do every day. It is the solid ground underneath your feet, the foreground or background of every picture inside, a space that can easily go unnoticed, but is the backbone of creating a comfortable area for you and your family. Here at RenovAdam, we know how important every detail of your home is to you. We employ master artisans and craftsman to precisely lay the finest floor tile, weave in the quality hardwoods, and/or choose and install the perfect luxury vinyl flooring to fit your space and needs. Look through our portfolio below to view some of our work on flooring.
Universal Design
Creating the right space for yourself or your loved one can make the world of difference. We can provide you a barrier free wheel chair accessible living space to meet the needs of all different types of abilities. We can work with you to determine your needs and create a masterpiece of quality, design, and function. Click on an album below to view some of our work using Universal Design.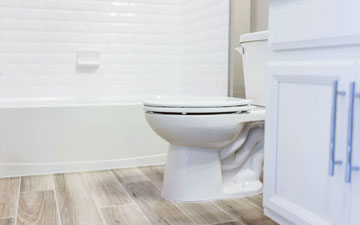 Bathrooms
There are two reasons to have your bathroom renovated: 1) your bathroom doesn't look the way you would like or 2) it was not built to last in the first place. For the first reason, people usually just say that it isn't that important, if it is functional then it is fine. But think of this, the average person spends more than a year and a half in the bathroom in their lifetime. Given that, it's not surprising that so many people want their bathrooms to be pleasing to the eye, as it is a chance to get away from the daily grind.
As for the second reason, your bathroom contains a lot of moisture so it is important that it is built to withstand that humidity. If not, then the dampness may seep into the underlying material weakening the material and cutting its longevity significantly. Worse still if excessive moisture really gets under the floor and behind the walls then there is the possibility of mold and mildew which can cause a number of health issues.
Kitchen
RenovAdam has been providing top quality construction, cabinetry, and design on kitchen renovations and remodeling since 2005. We coordinate and manage construction, ordering and installation. We help homeowners get more enjoyment from their home with new kitchen designs that blend beautifully with their new or existing home decor.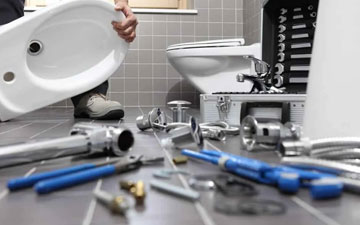 Plumbing
Next time you need plumbing services or have a plumbing repair project in Laval, QC area, you can count on RenovAdam Services. We've been serving Laval, QC since 2005 and have built a reputation as the most careful, professional, and trustworthy plumbing service around. We can take care of installations for your bathroom renovations, repairs when there's a leak or break, plumbing replacements when it comes time for an upgrade, and all of your regular and emergency plumbing needs. We also offer expert commercial plumbing services.
Painting: Exterior & Interior
Is your community in need of a fresh interior or exterior paint job? If so, you are in the right place. We have vast experience painting multifamily and commercial properties. RenovAdam Painting and Renovations has a tried and true process. Over the past 15 years, we have served clients of all sizes and needs. There are many benefits of painting your property and we have the expertise to make sure you are maximizing your investment. Our painting services are utilized by a variety of clients, including multifamily, commercial, residential, and unique properties. We offer both exterior and interior painting, pressure washing and staining. Additionally, we can use protective coatings to further protect your property from the elements. If you would like to speak to a representative or learn more, please don't hesitate to call us.
WE OFFER VARIOUS SERVICES INCLUDING:
Bathroom Remodeling
Cabinetry
Carpentry
Commercial Services
Concrete & Masonry
Damage Restoration
Decks & Railing
Door Services
Electrical Services
Flooring
General Contracting
Home Building
Home Remodeling
Kitchen Remodeling
Painting
Plaster & Drywall Services
Plumbing Services
Room Additions
Siding
Windows Services
WE SERVE
Laval
Terrebonne
Montreal
Blainville
Boisbriand
Saint-Eustache
Sainte-Marthe-sur-le-Lac
Saint Laurent
Repentigny